Knights of Columbus


Divine Infant Council 7873
Orléans, Ontario, Canada
Click on Logo above to visit Divine Infant Parish Web site
---
IMPORTANT NOTICE for ALL EVENT CHAIRMEN:
1 - Please ask G.K. in advance if you need advance funds for event.
2 - When collecting moneys for event, do not keep funds in hand
but immediately remit funds only to F.S. on regular basis.
3 - Event report must be filed within two weeks following event conclusion.
(see Grand Knight or Financial Secretary for procedures and forms.)

---
Paul Bourke PGK (343) 550-1740
Grand Knight 2019 - 2022

---
Our COUNCIL
Divine Infant Council 7873
6658 Bilberry Drive,
Orléans, Ontario, Canada
K1C 2S9
send e-mail:
KofCdi@hotmail.com
---
DISTRICT 66
New District Deputy
Bruce Doucette bg.doucette@sympatico.ca 613-260-1778
District Warden 66
vacant
DISTRICT 114
Michael Goulet m.goulet@rogers.com 613 824 3740


---
Council 5558 Luke Hart (Ottawa)

| | | | |
| --- | --- | --- | --- |
| Wayne Mousseau | Grand Knight | 613-421-8679 | |
---
Council 7873 Divine Infant
(Orleans)
| | | | |
| --- | --- | --- | --- |
| Paul Bourque | Grand Knight | 343-550-1740 | paul.bourke@sympatico.ca |
---
Council 8008 Centennial
(Annunciation - Beacon Hill)

| | | | |
| --- | --- | --- | --- |
| Paul Soulliere | Grand Knight | 613-604-9402 | psoulliere@bell.net |
---
Council 9005 Good Shepherd
(Blackburn Hamlet)
now part of Dist 114

| | | | |
| --- | --- | --- | --- |
| Dem Magmanlact | Grand Knight | 613-830-5747 | de_most@live.com |
---
Council 13049 St. Edith Stein (Rockland)
| | | | |
| --- | --- | --- | --- |
| Patrick Callaghan | Grand Knight | 613-922-6052 | |
---
Council 13701 Resurrection of our Lord
(Ottawa)
now part of Dist 114

| | | | |
| --- | --- | --- | --- |
| Maurice MacDonell | Grand Knight | 613-521-5630 | |
---
Council 16762 Immaculate Heart of Mary Canada
| | | | |
| --- | --- | --- | --- |
| Peter Rinaldi | Grand Knight | 613-733-5053 | |
---
Council 16983 St. Ignatius the Martyr
| | | | |
| --- | --- | --- | --- |
| Brian Schwarz | Grand Knight | 613-842-0838 | |
---
Agency Department
Fraternal Counselor:
Brother David Gallagher (613) 422-3117
or visit the agency web site at www.kofcfinance.com
5450 Canotec Rd. UNIT 57, Ottawa, ON, K1J 9G5
(613) 695-5632
Marc Madore General Agent


BACK TO THE TABLE
---
Council Activities
Our Council is a Parish Council and a very active one. Many of our Knights are Ushers, Lecturers, Eucharistic Ministers, choir members, and some also serve as members of Our Parish Council. We support the Parish and our Clergy as well as the Archbishop. We sponsor a seminarian who is currently studying for the priesthood in the Dominican Republic. We have sponsored five young men over the past fifteen years. Thirteen of our Brother Knights are also permanent Deacons. We have regularly scheduled Knights Masses, and Communion Breakfasts. We support a very active Youth program in the Parish, as well as the NET group, bursaries for the local high schools, and this year had over one hundred sixty participants in the K of C basketball free throw competition. We support our acolytes with an altar servers picnic, a day at the ballpark, and a special communion breakfast where we raise funds to support their activities. Many of our Past Grand Knights have gone on to become district Deputies or serve the State Council as Directors of various committees. We have an extremely active First Degree team, a Second Degree team that is made up of a majority of members from our Council and have a significant presence on the Third Degree team. We routinely raise money for pro life groups such as the Miriam Centre who care for young women faced with unplanned pregnancies. The Knights of Columbus believe that the call to cherish and support life from conception to natural death comes from the Gospel of Jesus Christ itself." Information regarding the Pope's Pro Life Manifesto, KofC Pro Life Initiatives, as well as important Pro Life Web Links. We have many social events at which the local community is invited to participate and do so in large numbers. We sponsor a family in India, and a foster child in the Philippines and a seminarian in the Dominican Republic. We have built an addition on to our church hall, organized clean up and fix up work parties and willingly help out when the Parish or community is in need. During the "Ice Storm of 98" many of our Brother knights spent countless hours helping those in need. Some of our Brother Knights run a Karate class for youngsters in the Parish. We also know how to have fun, like our New Years Eve Dance, sleigh rides, Octoberfest, Bowling, and many others, but perhaps the two favourites are the annual Surf & Turf, and our highly acclaimed "Ladies Night Out" where our favourite ladies are treated to a multi-course feast hosted by the Knights at a festival that includes music and entertainment. We also sponsor evenings where guest speakers come in to enlighten our families and friends on a variety of subjects. As our Chaplain has said on many occasions, we are his right arm when work needs to be done. As a reminder to the parishioners of what the KofC mean to this parish, there is a three panel stained glass window over the main doors to the church depicting family and pastoral scenes and includes references to the four principles of our Order, "Charity, Unity, Fraternity and Patriotism."
Click on any underlined item in the above paragraph for pictures.

---
BACK TO THE TABLE
---
COUNCIL HISTORY
Divine Infant Council was chartered on October 7, 1981. Our original Council began with 49 dedicated members and has grown constantly. We are a parish Council located in Divine Infant Parish, Orléans, Ontario, Canada, part of District 66 and of the State Council of Ontario. From the very beginning, the goals were set high and thanks to a succession of dedicated Grand Knights we have always surpassed our goals and achieved a reputation as a Council on the move. This is due in large measure to the dedication of every Knight who joins our Council. Our motto is "Every Knight an Active Knight." Our Knights are highly supportive of Divine Infant Parish, the community of Orléans and of course Our Council and the worldwide Brotherhood of the Knights of Columbus.
Our first "Awards Night" took place at Le Normandie Motor Hotel in June of 1982. A landmark of the time a tall lighthouse sat on the same plot of land. . The Hotel was demolished in 1988 to make way for the enlargement of route 17, now 174 at Champlain now the site of Place d'Orleans. Every member attended the gala supper and the entertainment that followed was enjoyed by all MC'd by our Charter GK Jim Jenkins, Special guests included; the then current DD of District 66 Frank Simpson, Father Maurice Egan and the pastor of Divine Infant Parish Father Michael Hurtubise. Because we had no church at the time meetings took place at Convent Glen Elementary school and the municipal social meeting hall on Champlain st.
---
CHARTER MEMBERS of Council 7873 ~ October 7, 1981
Ron Arsenault, Pat Beasley, G.J. Beaubien, Keith Boyden, Jerry Brooker, Nilo Cachero, Moe Caza, Steve Caza, Ken Charlebois, S.Y. Costello, Ron Cronier, Des Curley, F.M. DaCosta, Ron Delaney, Jerry J. Dobra, Rev. W.M. Egan, Brian.C. Farr, J.R. Fitsgibbon, Brian Fortier, Don Gallivan, Don Grenier, Art Hassler, Rev. M.A. Hurtubise, Jim Jenkins, Al Jimmo, D. Keating, Steve Kendall, J. Kenny, T.F. Kiery, Tony Kozij, Loch Lalonde, Y.H. Lamorre, Bob Laplante, Denis Laporte, Richard Luckasavitch, J.R. MacDonald, R.T. MacKachern, Bob.McGarry, Moran.McMahon, Pat.McNulty, Owen J.McPolin, Bill Muir, Robert Orser, Gerry Pembroke, R.L. Pilon, Mac Savoy, Keith Siddons, Pierre Seguin, G.H. Sommers, John Sullivan, J.G. Sullivan, Pat Valiquette, Ed Volek, Carl Ward.
---

Past Grand Knights of 7873
1981-1982 James R. Jenkins FDD
1982-1983 Robert Laplante FDD
1983-1984 Edward Volek*
1984-1985 Ron Arsenault FDD
1985-1986 Myles McKay FDD
1986-1987 Tony Kozij
1987-1988 Ron Delaney PFN FDD
1988-1989 Ron Delaney PFN FDD
1989-1990 Carl Ward PFN FDD
1990-1991 Tom Donohue FDD
1991-1992 Kevin Miller
1992-1993 Paul Gravelle
1993-1994 Basil Gorman*
1994-1995 William Briggs PFN*
1995-1996 Wilf Lemoire PFN FDD
1996-1997 Carl McDiarmid
1997-1998 Ken Lemoire
1998-1999 Carl Ward PFN FDD
1999-2000 Carl Ward PFNFDD
2000-2001 J. Barry O'Regan
2001-2002 Martin Tonary
2002-2003 Paul Nunes
2003-2004 James Westcott PFN*
2004-2005 Xavier Rankin
2005-2006 Ron Hutt PFN FDD
2006-2007 Ron Hutt PFN FDD
2007-2008 Richard Charette
2008 -2010 Réal Thibault
2010 -2011 Richard Boulianne
2011 -2013 John St Jean
2013 -2015 Paul Bernard
2015 -2017 Réal Thibault
2017-2018 Richard Charette
2018- 2019 Terry O'Donnell
2019-.2022 Paul W. Bourke.

* Deceased
BACK TO THE TABLE
---
COUNCIL SIZE
Divine Infant Council currently consists of approximately three hundred members!
---
ADDRESS
6658 Bilberry Drive, Orléans, Ontario, K1C 2S9.
e-mail: KofCdi@hotmail.com
(just click to send)
---
ABOUT OUR CITY/TOWN
Orléans is located in the east end of the newly configured city of OTTAWA, our Nation's Capital. Orléans is actually a suburb of the City and one of the fastest growing communities in Canada. The population of the Ottawa Region has just passed the one million mark. Ottawa forms part of the "Golden Triangle" Ottawa, Toronto and Montréal.
---
WHO DO I CALL TO JOIN?
Grand Knight
Paul Bourke
PGK
(343) 550-1740
Chancellor
(See above for contact information or click on named to send e-mail)
---
AWARDS
Among many other awards, Divine Infant Council won the coveted "STAR COUNCIL AWARD"
for
twenty seven consecutive years, beginning from its inception in 1981 till 2007. We believe that this was due to the challenging and varied program run each year which is based on the excellent guidelines provided in the "Surge with Service" program instituted by Supreme Council and due to the dedication of the Grand Knights and the executive who continue to lead us in living Columbianism in our daily lives.
Our Council has also won the Ontario Trillium Award in all but one of its years as a Council. We have also won Best Council Award, and various other awards too numerous to mention here.
In addition to the Council Awards from Supreme and State, there are individual awards for Brother Knights who have warranted special attention due to their exemplary actions during the year. In addition to the "Knight of the Year Award", the Grand Knight has seen fit to recognize the following for their contribution in making this year a successful one
"Annual Awards Night" on the web index for results of 2018 ~ 2019
---
DEGREE TEAMS
Our First Degree team was formed during the first year of our existence and continues to provide the exemplification for this and many other Councils in the Ottawa area. We formed a Second Degree team the second year of our existence, made up mostly of members from our Council, augmented by a few members of other Councils within District 66. The Third Degree team from the Ottawa area has a significant number of members from our Council who form an integral part of the team.
---
SPECIAL HIGHLIGHTS
Our Council is currently working on its next

STAR AWARD.

We won our first award under Charter Grand Knight, Brother James R. Jenkins PGK, FDD, and have tried to improve each year. It is a tribute to the many Grand Knights that have followed Jim, that they have grown the Council both in terms of numbers and commitment to excellence. In following the guidelines as outlined in the "Surge with Service" as provided by Supreme Council, we have enjoyed meeting the challenges, and have recruited many new members to grow our Council. We challenge other Councils to use these guidelines, and have your Council "make the difference" in your Community and Parish. These guidelines not only help you have an impact on society, but as a result, you may earn this prestigious award for your Council.

WE SUPPORT OUR PRIESTS AND SEMINARIANS: Jesus Manuel de la Rosa Perez, was ordained a priest on May 31, 2003 in the Dominican Republic. We wish him well in his new parish. Our next ordained priest is Kelly Boyden ordained last year, now serving with the Canadian Armed Forces. The latest seminarian who has become a Priest is Luc Lazarre is from Haiti but is currently located in the Dominican Republic..

DIVINE INFANT PARISH on their twenty-fifth anniversary, honoured ten "pioneers" that were responsible in large part for the creation of the parish. It is indeed fitting that six of the ten pioneers are members of Knights of Council 7873 demonstrating that we are proud supporters of this parish since its inception. Subsequent years have seen other knights enrolled in the same ranks of the Divine Infant Parish. This trend has been carried on from year to year and it is worthwhile to review the past honourees who are inscribed on a list located on the wall in the church.
---
KNIGHTs OF THE YEAR 2020 and 2021

The plaque for the "Knight of the year" reads: "In sincere appreciation and recognition of outstanding Service, Loyalty, and Devotion to Divine Infant Council." This inscription is self explanatory and this year's recipient of the Title " Knight of the Year " is truly a reflection of that inscription. For these reasons Brother Sean Curran has been selected as 2019-2020 Knight of the year and Jim Paquette for 2020 -2021.
They have been two of our hardest working Knights. They are always ready to pitch in and help, and they lead by example as per their participation at special occasions. Much of the work they do takes place after the regular meeting. Always wearing a smile as they go about their work. We need more men who would be willing to put their shoulder to the wheel and get the job done. An honour well deserved! Congratulations Brothers you can be proud of the way you handled the extra duties and served your brother knights, and we are sure, you shall continue to do so in the future.
---
Previous winners of Knight of the Year Award:
1981-82 Keith Boyden PGK
1982-83 Tony Kozij PGK
1983-84 Ron Delaney PGK, PFN, FDD
1984-85 Moe Caza
1985-86 Jim Jenkins PGK FDD
1986-87 Dick Luckasavitch
1987-88 Eldon Ell
1988-89 Keith Boyden PGK
1989-90 Deacon Tom Donohue PGK FDD
1990-91 Kevin Miller PGK
1991-92 Charles Walsh
1992-93 Carl Ward PGK PFN FDD
1993-94 Wilf Lemoire PGK PFN FDD
1994-95 Carl McDiarmid PGK
1995-96 Dave Carbonette
1996-97 Al Buote
1997-98 Jim Gauvreau
1998-99 Andy Main
1999-00 Martin Tonary PGK
2000-01 Ron Delaney PGK PFN FDD
2001-02 Richard Charette PGK
2002-03 Doug Drouillard
2003-04 Bernie Alain
2004-05 Scott Weatherdon
2005-06 Richard Charette PGK
2006-07 Obie O'Blenis
2007-08 Jim Westcott PGK, PFN
2008-09 Doug Drouillard
2009-10 William Skitteral
2010-11 Guy Savard
2011-12 Jay Sanko
2012-13 Paul Duford
2013-14 Ron Emberg
2014-15 Terry O'Donnell PGK
2015-16 John St. Jean PGK
2016-17 Adam Lyon
2017-18 Adam Lyon
2018-19 Guy Savard
2019-20 Sean M. Curran
2020-21 Jim Paquette

---
WHEN WE MEET
Business meetings take place on the first Tuesday of each month in the Parish Hall of Divine Infant Church.
You are welcome to join us prior to meetings (after 7pm) to share our fraternity and camaraderie.
Business meetings start at 20:00 hrs following the evening Mass.

Our second meeting of the month is held on the third Thursday of each month at the same location and same time.

Executive meeting: prior to regular business meetings @ 7pm in Pastoral Council Room
---
MEMBERSHIP IN A COUNCIL: (Voting Procedures)
N.B. Only in good standing may hold executive position(s) follow sec112 for balloting.
SECTION:112: BALLOTING (single candidate)
All individual ballots for membership shall be secret: i.e. by written ballot, with the GK and DGK inspecting the ballot box before each ballot.
Section: 113: BALLOTING (multiple candidates)
If more than one candidate is to be balloted for at a meeting, the Grand Knight MAY announce that the first ballot shall be a general one upon all the candidates, and that if not more than one half of those present and voting shall cast negative ballots upon such general ballot, no other ballots shall be taken and all candidates shall be declared elected. If negative, then Section 112 shall be invoked with individual balloting for each candidate.
---
WHO SAID?
'Men are wise in proportion, not to their experience, but to their capacity for experience.'
---
OTHER INFORMATION 2021 -2022

(just click on underlined name to send e-mail)
DIRECTORS 2021- 2022
Grand Knight Paul Bourke PGK (343) 550-1740
Past Grand Knight Terry O'Donnell PGK (613) 424-1880
Financial Secretary Peter Corcoran (613) 834-8107
Program Director
Membership Director
Warden Paul Duford
Program Chairmen
Church Director
Community Director
Council Director
Family Director
Youth
Culture of life
OTHER
Public Relations
Memorial
Vocations:
Fraternal Counsellor: David Gallagher (613) 422-3117
Pro Life Gar Knutson (613) 841-8516
Grocery Certificates Jim Paquette (613) 837-9988
Health & Welfare
Degrees John St.Jean PGK (613) 834-8100
---
Knights Of Columbus Council 7873 MAIL BOX for your convenience is located beneath white board in church vestibule at back of church. You may deposit notes or letters to Council, address changes, your dues ( NOTE only cheques NO cash), or if you are volunteering to serve on a committee please drop your name in here, or any ideas or comments you may wish to convey to the executive of the Council. This box will be checked on a regular basis by the Grand Knight.
---
Official Archdiocese of Ottawa "Knights of Columbus Association" website
Ontario District 66
Bruce Doucette PGK bg.doucette@sympatico.ca 613-260-1778 District Deputy of "District 66"
---
New District 114 (see DD Goulet for more information)
Michael Goulet m.goulet@rogers.com 613 824 3740 is District Deputy of "District 114"
District 66 is made up of Councils:
5558, 7873, 8008, 13049, 16762 16983
---
Many of your Brother Knights of Council 7873 are also members of:
Bishop John Beahen, Fourth Degree Assembly, 2230
Click Here to go to Assembly 2230 web site
Our current Faithful Navigator 2021 is:

John P. Scoles (613) 741-0338

Current Assembly Officers re. (District one) are:
Vice Supreme Master  Cardinal McGuigan Province
 
 

SK Karl J. Brosch, PSD  (204) 237-3887

    
Master 1st District 
S/K John Schembri  (613) 226-6520

 

Members of the Third Degree who are interested in receiving more information or of joining Bishop John Beahen Assembly can contact any of the above, or sign on to their web site.
---
WHO CAN BECOME A KNIGHT ?
Membership in the Knights of Columbus is open to practical Catholic men in union with the Holy See, who shall not be less than 18 years of age on their last birthday. A practical Catholic is one who lives up to the Commandments of God and the precepts of the Church. Application blanks are available from any member of the Knights of Columbus. Every Knight is happy to propose eligible Catholic men for consideration as members.
Acceptance of the applicant depends upon a vote of the members of the subordinate Council in which he is making application.
All priests and religious Brothers having duly made application for membership and participated in the ceremonials become "honorary life members" of the Order and are exempt from payment of dues.
Application for membership must be made through the Council in the community nearest the applicant's place of residence. Interested prospects without a permanent domicile, such as men temporarily away from home through duty in the armed forces, may make application through their hometown Council or at the nearest Council on a military base.
If favourably voted upon, the applicant becomes a member by initiation known as the First Degree. He subsequently is advanced through the Second Degree and the Third Degree. (NOTE major changes in 2020 to be posted soon)
There are modest initiation fees and dues set by subordinate councils under regulations established by the Supreme Council. Divine Infant Council annual dues are currently set at $50.00 for regular members. Insurance privileges are available to all members who can qualify, which represents an important advantage of membership. For men in every walk of life the name Knights of Columbus engenders the image of a united organization, efficiently going about it tasks of charity, unity, fraternity, patriotism and defence of the priesthood. It is composed of men who are giving unselfishly of their time and talents in service of God and their country.
Membership in the Knights of Columbus provides opportunity for wholesome association with congenial companions who are, first of all, practical Catholic gentlemen. It offers the opportunity for fellowship with those who are of the same belief, who recognize the same duty to God, to family and to neighbour and who stand side by side in defence of those beliefs. Programs are so organized as to appeal to the individual interest of the members. Through many constructive activities of Christian fraternity, members are enabled to render service to their Church, their country and their fellowman. Through membership they develop a consciousness of their ability to lead and to assist.
Organized Columbianism, united behind individual Knights of Columbus, provides the power of an intelligent, alert body of Catholic men--a strength which the individual by himself cannot achieve.
Knights of Columbus have a proud heritage. A qualified Catholic man can share in that heritage and build an even greater future by affiliating himself with this forceful, effective body.
---
The Patriotic Degree ~ (4th Degree)
Another Degree open to members of the Knights of Columbus is that of the Fourth (or Patriotic) Degree. On February 22, 1900, the first exemplification of that Degree was held in New York City. The ritual added patriotism to the three original principles of the Order: charity, unity and fraternity. Any Third Degree member in good standing, is eligible for membership in the Fourth Degree.
The primary purpose of the Fourth Degree is to foster the spirit of patriotism by promoting responsible citizenship and a love of and loyalty to the Knights' respective countries through active membership in local Fourth Degree groups called assemblies. Fourth Degree members must retain their membership as Third Degree members in the local Council to remain in good standing.
Certain members of the Fourth Degree serve as Honour Guards at civic and religious functions, an activity which has brought worldwide recognition to the Knights of Columbus organization. The Assembly associated with Divine Infant Council 7873 among other Councils within District 66, is Bishop John Beahen Assembly 2230.
---
BACK TO THE TABLE
See Pictures From Charter Night 99
---
OTHER NICE SITES
Pro Life Link
Please be sure to visit us again soon!
Bookmark this page now!
Web site created by Ron Delaney PGK PFN FDD
Supreme Board Office
Ontario State Board Office
BACK TO THE TABLE
---
To send a note to the Web master, please CLICK HERE!.
---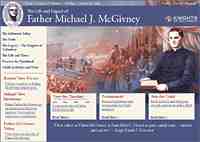 The Knights of Columbus has established a new Web site (Click Here) to honour the life and legacy of Father Michael J. McGivney, founder of the Order.
Prayer for the canonization of Venerable Father Michael J. McGivney


Father Michael J. McGivney (1852 - 1890)
God, our Father, protector of the poor and defender of the widow and orphan, You called Your priest, Father Michael J. McGivney, to be an apostle of Christian family life and to lead the young to the generous service of their neighbour. Through the example of his life and virtue may we follow Your Son, Jesus Christ, more closely, fulfilling His commandment of charity and building up His Body which is the Church. Let the inspiration of Your servant prompt us to greater confidence in Your love, so that we may continue his work of caring for the needy and the outcast. We humbly ask that You glorify Your servant, Father Michael J. McGivney on earth, according to the design of Your holy will. Through his intercession, grant the favour I now present (here make your request). Through Jesus Christ our Lord. Amen.
Our Father, Hail Mary ,Glory be to the Father.
"VIVAT JESUS"
BACK TO THE TABLE
The End