Lent and Easter 2014 Calendar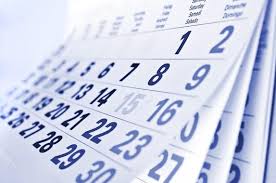 Please make note of our 2014 Lent and Easter calendar of events. We encourage you to adjust your schedules so that you and your family may participate in our liturgies.


2014 Schedule
Additional Masses for Lent
Please note that, in addition to our regular Mass times, there will be Masses at 9:00 am on Mondays & Tuesdays, 7:00pm on Wednesdays & Thursdays and 6:30pm on Fridays during Lent. (Stations of the Cross will follow Mass on Fridays led by various parish ministries as listed below.)
April 18th - Good Friday at 10:00 am led by our youth
               Good Friday at 7:00 pm led by our Clergy
Holy Week Schedule
WE JOURNEY TOWARDS EASTER
The Chrism Mass will take place on Tuesday, April 15 at Notre Dame Cathedral at 7:30 pm. There will be no Mass at Divine Infant that evening as all parishioners are encouraged to attend the Chrism Mass.
TRIDUUM
Holy Thursday, April 17
Mass of the Lord's Supper - 7:30 pm
Good Friday, April 18th
Stations of the Cross (Youth) - 10:00 am
Celebration of the Lord's Passion - 3:00 pm
(at the Church and at St. Peter High School -750 Charlemagne Blvd.)
Stations of the Cross (Clergy) - 7:00 pm
Holy Saturday, April 19th
Blessing of the food baskets 11:00 am
Easter Vigil at 8:00 pm
(Please join our newly baptized for a reception in the parish hall immediately following the Vigil Mass)
Easter Sunday, April 20th
Masses at the Church at 8:00, 9:30 & 11:15 am
St. Peter High School at 10:00 am
(Note there will be no 5:00 Mass on Saturday or 6:30 pm Mass on Sunday)
No Confessions on Good Friday or Holy Saturday